---
|| • ||
---
From the program of the 25th annual
New Jersey Folk Festival
---
At 68, This Folk Musician Is Now In Fashion
by Richard J. Skelly

David Amram, now 68, ever the humble multi-instrumentalist musician and populist composer, has a website. But he's reluctant to tell people about it. He prefaces his closing words in a phone conversation from his home, a small farm in Putnam County, New York, with, "I know it sounds really self-centered but go to my website for more information on my upcoming gigs."

Amram, who has successfully networked himself into the worlds of jazz, Latin jazz, folk, and classical music over four decades in music - and earned the respect of his peers in each idiom - will headline this year's silver anniversary edition of the New Jersey Folk Festival. Over the years, the festival has played host to everything from sheepherding demonstrations by Scottish border collies, modern fire-fighting techniques, glass blowing, cooking, crafts demonstrations, and even the unveiling of a huge American flag. All that is secondary, however, to the musicians and the storytellers who perform.

Amram has performed at the festival, founded in 1975, before, but it was still in its infancy. Recalling the last New Jersey Folk Festival he played, in the late 1970s, Amram says, "It was very small and very personal."

"I remember that they had a group wearing T-shirts that said, 'Piney Power.' They were playing some of the music that was played there, and I thought that was terrific! It was very open and a lot of people sat in and played with one another's groups, which is something I've done all my life," he explains.

Amram, raised on a farm in Feasterville, Pennsylvania, not far from the New Jersey border, moved to New York City in the early 1950s to pursue a life as a musician. In those days, his primary instrument was French horn but over the years, he has added more than two dozen Western and non-Western instruments to his repertoire, including piano, guitar, the dumbek (an Arab drum), and various Native American flutes and whistles. Amram was a part of the first jazz-poetry readings in New York City in the early 1950s.

"I had the chance to work not only with Lionel Hampton and Charles Mingus and Thelonius Monk, but also to work with Jack Kerouac at his poetry readings," Amram says. Later, he met Woody Guthrie, Ramblin' Jack Elliot, Pete Seeger, and Odetta.

"Jazz and folk music were very close spiritually in those days," he recalls, "and all of these people felt that music was about sharing."

Amram also recalls that a lot of people in the classical music world had difficulty accepting his interest in folk music and jazz, "but the folk musicians and jazz musicians and a handful of the classical musicians understood and always encouraged me."

Amram, the son of a lawyer and farming father and a translator mother, says his youth included many trips to the Jersey Shore, still one of his favorite places. His uncle David took him to see the Philadelphia Orchestra when he was six and the Duke Ellington Orchestra when he was 10. His uncle also took him to a concert of Native American music. These early musical experiences made a lasting impact.

When he first moved to Greenwich Village in the early '50s, Amram recalls, he was able to eke out a living playing jazz with 'classic bebop musicians.

"I was attracted to the purity of spirit of all of these musicians. [Saxophonist] Charlie Parker, who I first met in 1952, who was on a bill with the Clovers, [urban group harmony] and I remember he told me, 'If you want to understand me, you have to understand the Clovers.' Even though they were the most sophisticated vocal group around at that time, they came out of the streets and took a neighborly approach," he recalls.

"All of these people, they all had this integrity and this down-to-earth accessible quality about them," he says. "That's why I love playing with Willie Nelson now," he says, "because he's the same way." Amram has performed with Nelson at several of the annual Farm Aid benefit concerts through the 1990s.

Similarly, Amram has a down-to-earth, accessible quality that festival booking agents and others in performing arts administration find irresistible. Aside from his time playing folk festivals, Amram also spends a good portion of each year conducting orchestras around the country, including the Brooklyn Philharmonic, the Nashville Symphony, the Austin Symphony, and several Canadian symphony orchestras.

Recently, the esteemed Irish flute player, James Galway, commissioned Amram to write a flute concerto. He has named it "Giants of the Night," and each of its three movements is dedicated to an artist ~ Charlie Parker, Jack Kerouac, and Dizzy Gillespie - whom Amram knew and performed with.

"Most of my symphonic pieces come out of my real life experiences, not the symphony hall, but experiences I've had in Brazil, in the mountains of Pakistan and Afghanistan, in Japan, in various places around Canada, and all across the United States on different Indian reservations that I've spent time playing in," he says.

Folk festivals have changed since he first began performing at them in the early 1960s. Amram says today's folk festivals are less snobby and more inclusive. In May, he will co-headline for his 23rd consecutive year at the Kerrville Folk Festival in Texas, a massive gathering west of Austin that goes on for 15 days. Amram has also performed at the Philadelphia Folk Festival, the Hudson River Revival, the Winnipeg, Mariposa, and Vancouver folk festivals in Canada, and dozens of others.

"I remember one time, back in the '60s, I said at one of the folk festivals, 'It would be great to get a Native American to play this music.' And the people running the festival said, 'That's not folk music.' I realize of course in the '60s and '70s, some of the people who were saying these things had never spent any time with these folks, and didn't realize there were millions of people from these cultures who'd been playing these musics for hundreds of years, and some of them are based on cultures that go back thousands of years."

"Now of course with the interest in what they call 'world music,' it's very beautiful to see folk festivals include these musics, and in doing so they present the opportunity for the British Isles music to sound more beautiful by giving it the context of these other types of music."

"Thirty years ago when I was doing the early folk festivals, some people were shocked because they didn't think what I was doing was traditional music. I was playing traditional musics I'd learned from different parts of the world. Now when I go to the festivals, I'm very often the leading traditionalist there," he says, laughing.

Amram recalls he recently was asked to be part of the Northeast Regional Folk Alliance gathering in Pennsylvania, held last November in the Pocono Mountains.

"I was the one who was talking about the virtues of the older musics," he says, "I stressed to the younger musicians that they had the Internet and the ability to make their own recordings to get their music out there, in addition to better business skills, which, God knows, our generation did not have."

At the same time, Amram says, "it's important not to forget the spiritual and the humanistic part of the music. So it's equally important to be concerned with having respect for the older music and older musicians that came before you as well as passing it on to the younger people."

Amram argues in the 1960s, especially, folk music was bogged down with so much political rhetoric, musicians were almost in a realm of having to be politicians or to sound like politicians. Now, he says, folk festivals are more concerned with letting the music speak for itself. Folk festivals nowadays, he stresses, "are not desperately trying to be politically correct, but they're trying to be humanistically and musically correct.

"And they're including everybody. In these types of music, the left wing and the right wing and the differences are always going to be there. But the music is about healing and togetherness and celebrating everybody's commonality, through that drum, which represents all living things - as the Native American people would say - and that song that's in every human being's heart and that story that every human being has to tell."

At all of the hundreds of folk festivals Amram has played, he has never been reluctant to take part at folk festival workshops either. While some performers are hesitant to take part in workshops, thinking it might be bad for their careers, Amram is usually the first one up to the workshop stage at the Philadelphia Folk Festival or the Hudson River Revival.

"At the New Jersey Folk Festival, I'll not only be 'closing the show,' as they say, but I'll also be doing a workshop at 11:30 in the morning. And I'm happy to do it! And I look forward to sitting . in with other people throughout the day," he adds.

Amram has taken more than his share of criticism over the years for trying to master so many different kinds of music. But such criticism comes from people who don't know the man's purity of spirit and sincerity of effort in trying to learn and play many different types of instruments. Talk to musicians in Latin jazz, traditional jazz, folk music, and the classical world, and you'll find Amram is held in high regard.

Asked if he ever felt he was spreading himself too thin by being involved in so many different musical genres throughout his four decades in music, Amram says absolutely not.

"They used to criticize me," he says, "now, the New York Times in 1995 says 'David Amram was multicultural before multiculturalism existed.' Now I'm being called a pioneer of world music, and now - it's what I've been doing all my life - it's considered fashionable. So I'm getting work all over the world."

He notes that all of his classical compositions are being recorded now "by people I don't even know, because the strength of them, their uniqueness, comes from my involvement in all these musics that I deal with."

"When I'm playing at a folk festival I can do a workshop and play music from 15 different countries and make it fun for the audience," he says. "And it's not something I do because I read it in a magazine and thought it would be fashionable, I do it because this is what I've been doing my whole life."

Amram married in 1979, when he was 48. He and his wife Lora Lee have three children, two of whom are ready to start college. Having children is "a great healthification program" he says. And when he's not on the road, he enjoys talking with his children and their friends. "Trying to understand what they and their friends are going through is a very enriching experience," he says. For that reason, he also looks forward to sharing the stage at the New Jersey Folk Festival with younger musicians. "This kind of music doesn't celebrate selfishness and greed, it's about sharing our blessings," he says.
---
---
From the Orlando Sentinel,
April 16-22, 1999
---
Composer David Amram pay homage to Jack Kerouac
By Steven Brown, Sentinal Classical Music Critic
There's more to David Amram than the fact, he was a friend of writer Jack Kerouac.
Amram, a composer, is writing a flute concerto for the acclaimed Irishman James Galway. That's no small-time project. But even that shows only one side of what Amram has be en doing since launching his career in the 1950s.
Besides composing concert music for Galway, the New York Philharmonic and others. he has created soundtrack music for movies - the most noted being The Manchurian Candidate (1962) and Splendor in the Grass (1961). As a jazz player, mainly on the French horn, he has collaborated with Dizzy Gillespie, Charles Mingus, Lionel Hampton and others.
As a world-music enthusiast, he has studied the music of -- and sometimes performed with musicians of -- the Miccosukee Indians and many other peoples whose music is far afield From the standard European classics. As an orchestral conductor he has led concerts that put European classics alongside music from other traditions that have caught his ear.
But Amram's connection to Kerouac -- whom he met when they were part of the New York Cultural scene of the 1950s - keeps popping up.
That concerto For Galway, for instance, will include a movement meant to evoke the cult-figure author. And evoking Kerouac will also be Amram's goal tonight when he headlines a jazz concert in College Park benefiting the Jack Kerouac Writers in Residence Project.
"I kind of call it 'From Cairo to Kerouac.' " Amram, 68, said in a telephone interview. In addition to playing jazz standards by Duke Ellington, George Gershwin and others, Amram will perform samples of the kind of music the ardent voyager Kerouac heard during his travels in the Middle East, There also will he a couple of French Canadian tunes that Amram remembers hearing Kerouac sing,
Obviously. it isn't just because of Amram's profession that he uses music to conjure up the aura of his friend, who died in 1969. Amram remembers Kerouac not merely as a writer but as a "very musical person" - an adroit amateur singer and a fiercely focused listener. Amram borrowed a description from another friend, one of the great jazz players of the 1950s.
"Charlie Parker used to say that Jack was one of those people who, when they were there while you played, you felt their presence so intensely that you would end up going and talking to them afterward," Amram said. Amram thinks that Kerouac's love of music influenced the style of his prose.
"He was able to capture the rhythm and flavor of jazz in his writing when no one else was able to do that," Amram commented. Amram singled out a passage from one work that describes a train hurtling along the tracks with such vividness that "you hear the motion of the train in his writing."
Kerouac's "tremendous ear for music" let him appreciate not only jazz but "Haydn and Mozart and Bartok string quartets," Amram said. That diversity of taste is something Amram shares, of course. In Amram's case, it came from family influence.
"My uncle was a merchant seaman," Amram said. "Every place he went when he traveled the world, he tried to learn the language and hear the music. He was very much like Jack, actually - except that he lived much longer. ... He encouraged me at a very young age to have my mind open to everything."
"He took me to hear the Philadelphia Orchestra when I was 6 or 7, and he also took me to hear Duke Ellington. He told me that what Ellington was doing was similar to what the Philadelphia Orchestra was doing - that Ellington had created his own kind of orchestra and that I could respect what Ellington was doing too."
When it comes to musical genres, Amram and Kerouac ended up pioneering something of a genre of their own: jazz poetry, which at first featured Kerouac making up poetry on the spot as Amram improvised music. Amram still engages in this with others - and will tonight in College Park - although the verbal part isn't always improvised.
"I try to really accompany the reader, so that the music enhances the reading - rather than drowning it out," Amram said. "It's very rewarding because when you do that, you're part of a world you've never been part of before. You've put yourself in somebody else's world."
Amram acknowledged that his and Kerouac's innovation ended up spawning a 1950s caricature - the word-spouting, bongo-playing Beatnik. He recalled going with Kerouac into a cafe whose habitues were fitted out with "bongos that still had price tags on them and copies of Proust and Jack Kerouac that looked like they had never been read."
Kerouac scoffed. "He said, 'This is like Catholic school. Everybody is in uniform.'"
---
---
From the (NY) Times Herald Record
Friday, April 16, 1999
---
Hudson Valley resident David Amram is a Renaissance man for the new millennium.
By MITCHELL USCHER
A world-class musician, conductor and composer, Amram, who lived for years in Godeffroy and now lives in Putnam County, has composed more than 100 pieces for orchestras and chamber ensembles. He's written the music for Broadway shows as well as for such films as "Splendor in the Grass" and "The Manchurian Candidate." He has collaborated with everyone from Leonard Bernstein to Jack Kerouac. And he's spent the last four decades performing around the world with Willie Nelson, Charlie Parker, Dizzy Gillespie and others.
Amram's next musical endeavor is a concert titled "World Dance/Global Rhythms" Sunday at Town Hall in Manhattan. The performance will feature music from North, South and Central America Europe, the Caribbean, and other lands.
"I will be performing with Larry Packer, a great Hudson Valley musician who used to open for Jimi Hendrix at his concerts" Amram said. Amram also will be performing with members of his quartet, and audiences can look forward to traditional folk-music pieces in Afro-Cuban, Appalachian, Latin, and Middle Eastern styles.
At age 68, Amram continues to hit the high notes. When he is not writing a concerto for flutist James Galway, he is traveling everywhere from California to the Kennedy Center in Washington D.C. for performances, recordings and lectures.
And while he enjoys keeping busy with all of his projects, Amram cherishes the time he gets spends at his home in the Hudson Valley. He has enjoyed the region since he first moved here in 1965.
"I think it has some of the most beautiful scenery in the entire nation," Amram said. "I grew up on a farm in Pennsylvania, and I wanted my children to experience country living, including joining the 4-H club, having animals, and meeting those responsibilities. Those activities gave me values when I was young and, hopefully, it is doing the same for them."
But even when he was a boy on the farm, he knew he wanted a career in music.
"I used to hear the whistle from the train as it came thundering through the area on the way to New York City" he said. "I would dream of someday going to the city and being a musician. My uncle used to take me to hear all kinds of great music from the Philadelphia orchestra to Duke Ellington's band. I learned to appreciate them all, along with Native American music and the traditional Jewish music I heard at home."
Eventually, Amram did come to New York City and begin to make a living as a musician and a composer. In fact, he wrote the music for Joseph Papp's "Shakespeare in the Park" productions for 12 years as well as or the Pulitzer Prize-winning play "J.B." These experiences led him to writing music for the movies.
As the millennium approaches, Amram says there is an increased appreciation of world folk music as an art form of lasting value.
"Each culture's music is being respected for its own character and style" Amram said. "Just as it. is great to eat foods from different countries, or listen to other languages, or see native dances, it is also wonderful to hear how each culture's music has its own harmonies and nourishing sounds."
Amram particularly hopes that young people will come to his concert at Town Hall.
"What I try to do with younger people is show them that if you love what you're doing, follow your, heart, and do the best you can, you can fulfill your dreams," he said. "If you can do that, the journey is worth taking. The Navajo people called it `walking the trail of beauty.'"
Busy as he is, Amram, who has three teen-age children, feels blessed with his life and his work.
"My father showed me that not only can enjoy your work, but you can also try to give other people enjoyment with the work that you do " he said. "I always try to do the very, very best that I possibly can. Whether I'm performing at a prison or at the White House, I always try to go for excellence and joy!"
Mitchell Uscher is a free-lance writer for The Record
---
---
From The New Haven Register, March 7, 1999
---
From beat poets to Big Bird, composer-conductor David Amram keeps creative company
by John Mangan
FOR THE SYMPHONY ORCHESTRA, building tomorrow's audience begins today, and one of the best means of conveyance for this quest is a phenomenon known as the Young People's Concert.
The New Haven Symphony Orchestra will present its annual Young People's Concert for local school children Thursday in Woolsey Hall. Composer and conductor David Amram will lead a program featuring his own works as well as those of Kaufmann, Moncayo, Gershwin and Ginastera.
"I'll be doing in New Haven what I've done for the last 28 years for the Brooklyn Philharmonic and other orchestras around the country," Amram, 68, said recently.
"I try to devise a program that will relate to the community that I'm performing in. I try to do a Native American piece as well as an African-American work; so much great music has been inspired by jazz and the blues. Then I bring in a few European treasures. I want to make children feel that a symphony could be part of their everyday life," he said.
Brian Cook, violist as well as director of education for the NHSO, echoed Amram's enthusiasm.
"(Amram) is a very interesting guest conductor who has quite a history of conducting and performing music all around the world. Children find his stories captivating," Cook said. "The program is accessible; the music selected, even though it's classical, has elements that children will enjoy. It's a colorful and active repertoire. As an educator and member of the orchestra, I am excited that we can present these programs.
"I hope that we can put a little spark into the minds of young people," Cook continued, "to not necessarily say, 'I want to be a musician myself,' but to let them know that there is a lot out there in the world. (This concert) can help kids look at this music in a different light."
With the recent appointment of the NHSO's next music director, Jung-Ho Pak - a conductor known for his strong penchant for audience development and community outreach - there is talk in NHSO circles that concerts of this kind will increase in coming seasons.
Amram, who has been immortalized by the children's singer Raffi's lyric, "peanut butter sandwich, jelly with jam: one for me and one for David Amram," has produced an extensive body of compositions in many styles, including jazz, classical and world. He plays more than 30 instruments and regularly appears on PBS' "Sesame Street." He is also Known for having composed the soundtrack to the 1962 political thriller, "The Manchurian Candidate," which starred Frank Sinatra and Laurence Harvey. Amram's performance with the NHSO, in addition to being fun, will have a strong educational component.
"I bring a trunk of instruments to demonstrate on," he said, "to show kids that the percussion and wind instruments have ongoing traditions that go back thousands of years. And I always do at least one piece that has audience participation - with clapping or something else they can be part of They become part of the orchestra for a moment. You know, I often get asked, 'Do you use visual aids?' The answer is 'Yes, the musicians and their instruments.' When young audiences see musicians playing great music of different kinds and loving it, it's irresistible. We need to bring all audiences back to the joy and excitement of classical music."
Amram's list of collaborators over the years reads like a who's who of 20th-century music, stage, film and letters. He .has shared inspiration with Jack Kerouac, Allen Ginsberg, Arthur Miller, Leonard Bernstein, Charles Mingus, Thelonius Monk, Elia Kazan and Dizzy Gillespie.
It was Bernstein - the founding father of the now-legendary Young People's Concerts, whose performances with the New York Philharmonic at Carnegie Hall for area school children were first televised in the 1950s - who invited Am- ram to be the first composer-in-residence with the Philharmonic in 1966. Bernstein had taken over the orchestra as music director and conductor in 1958. By 1966, however, the chronically overextended conductor's schedule left no time for Young People's Concerts. It was then that he encouraged Amram to try his hand.
"He always said to me, 'I have you here at the Philharmonic because I like your compositions, but don't forget the young people. I don't have time anymore; other people need to find their own way of doing it,' " Amram recalled.
In the '50s, David Amram would have been among the last composer-conductors who any parent in America would have wanted bringing the joy of classical music to her children, though; more for the company he kept than anything else.
An oft-reproduced 1959 photograph taken in a Greenwich Village cafe shows Ginsberg and Kerouac, the collective epicenter of a new literary movement that came to be known as the beat generation. In the middle of the grainy photo sits a young Amram. He had befriended Kerouac in 1957 at the Five Spot, a New York jazz club. Later that year, at the Brata Gallery on East 10th Street, Amram, Kerouac and a few other poets held the first jazz-poetry reading in New York.
"Jack wanted to see a more gracious and accepting America" Amram noted. "I never dreamed I'd live to see the day when all of his books would be in print."
"Part of what I do is to bear witness to that era," said Amram, who tours a symphony program called "From Cairo to Kerouac."
"It wasn't about instant, overnight fame but about pursuing a dream and finding out what was in your heart. It was an exciting period for painters, musicians and writers. We were all trying to open up the doors, to feel at home in the arts."
Amram continues to "open up the doors." Having had the legacy passed to him by Bernstein, nurturing young audiences will remain at the fore-front of his concern.
John Mangan of New Haven is a free-lance writer.
---
---
From The Boston Globe
Wednesday, February 3, 1999
---
Amram takes the world with him when he tours
by Bob Blumenthal - Globe Correspondent
David Amram eats lunch the way he plays music: voraciously, as if to stoke the furnace that powers his prodigious output. "I've conducted over 400 pieces in the last 30 years," he summarized between forkfuls of Indian food on Monday afternoon. "One hundred of my concert pieces have been published, and I've also written music for 31 Shakespearean productions in Central Park as well as incidental music for 17 Broadway plays and 40 off-Broadway plays. Then there are all of the jazz tunes, and the 130 songs and story-songs I've composed for folk festivals and kids' programs."
In the course of a 90-minute conversation, Amram found opportunities to allude to many of these works, as well as such new projects as the flute concerto he is writing for James Galway. He also mentioned dozens of friends and associates, an array that includes Pablo Casals and Willie Nelson, Charlie Parker and Gunther Schuller, Jack Kerouac and Dustin Hoffman. If there is a creative avenue that Amram has not investigated or a collaborator with whom he has not worked, just let him know and stand back.
Amram has been the visiting artist with the New England Conservatory / Theloneous Monk Institute of Jazz Performance this week, and will incorporate the program's sextet into the NEC Orchestra concert that he is conducting at Jordan Hall tonight. "I try to make every symphony program I conduct appropriate to the particular situation." he explained. "This program is a celebration of Thelonious Monk, but it starts with a piece by Bartok because Monk encouraged me, just as Charlie Parker and Dizzy Gillespie did, to not only keep playing jazz but also to incorporate what jazz taught me in my written compositions and conducting.
"So we'll go from Bartok to Ellington to my own 'In Memory of Chano Pozo' to Monk, like an incredible journey. And I'll play many parts - composer, conductor, soloist - I'll even join the students as a sideman. The roles do not denote status, they are just different ways to serve the music."
Amram has prepared for these roles and others for most of his 68 years. Conductor Otto Klemperer was a cousin, yet Amram found greater inspiration in another relative. "One of my uncles was a merchant seaman," he recalled. "In 1941, when I was 11, he took me to hear Duke Ellington's band and the Philadelphia Orchestra. He also taught me folk music from around the world, including American Indian music. My whole life was formed from that point. I realized that more was around than what was given to me on a plate, and I saw that as an artist my job was to remain aware of everything out there."
This initially meant that Amram the classical composer and French horn player would also become a jazz musician. He received early encouragement while living in Washington, D.C., from Gillespie (whose entire band once stayed in Amram's apartment) and Parker, then joined Charles Mingus's Jazz Workshop in 1955. "I had just gotten out of the Army and was studying French horn with Gunther Schuller," Amram said. "I met Mingus, and then he told me that I'd learn more with him than I ever would in school. So after three weeks in New York I was playing with Jackie McLean and Mal Waldron, meeting with Miles and Max Roach and Monk."
Amram quickly made other connections. "I met Jack Kerouac in 1956, and he was doing the same thing as a writer that I was doing. He was improvising, using that creative fire. We did the first poetry and jazz presentations in 1957, and collaborated on the film 'Pull My Daisy' two years later. My affiliation with Jack is responsible for a lot of the recent interest in my music, to judge from the hits on my Web site [www.davidamram.com]. I've just composed music for a new CD of Kerouac reading unpublished poems and singing with a jazz band that will be out later this year."
By the early '60s, Amram was also composing for the Public Theater's Shakespeare in the Park series in New York and such films as "Splendor in the Grass" and "The Manchurian Candidate." He also found time for international music. "Within the 10-block area surrounding my Greenwich Village apartment, you could hear music from 20 or 30 countries every night," he recalled. "So by the time the State Department asked me to tour as a good-will ambassador, I was already very interested in what is now called 'world music.'
"Everywhere I went, I tried to take something back with me, perhaps just one small instrument, and to present it in my performances once I felt that I could accurately represent the style of music.
"One of my jobs is to share the first-hand experiences that I've had all over the world, even if in some cases this means that just singing them. You don't only teach with written scores. I was composer in residence at Marlboro [Vt.] in 1961, and I saw Pablo Casals and Rudolf Serkin teaching their students by singing the music, bringing out the same soulfulness and expression that I found playing with Dizzy, or with Willie Nelson when I did the Farm Aid concerts."
Amram is a farmer himself in Putnam Valley, N.Y., where he lives with his wife and children. "I garden when I'm at home." he said. "We even have a roadside stand to sell vegetables, and we also raise chickens, ducks and cows. It's like therapy, or organic aerobics. I also have a little shed where I can compose, and I've learned to be productive while I travel. I subscribe to the old Lakota Indian saying that 'Wherever I am is my home.' Give me a room with a hot plate and a keyboard, and it feels like I've received a fellowship."
The urge to share all of the styles he has learned, "not as a melting pot, but like a fine 14-course meal where each course has its own special beauty," continues to drive Amram. His first orchestration of a Monk composition, "Bye-Ay," was written for a Central Park concert in which Dustin Hoffman and Ossie Davis read "Peter and the Wolf." He has since completed two more symphonic settings of Monk (all three are on the Jordan Hall program) and plans more. "Giants of the Night," his concerto for Galway, has movements representing Parker, Kerouac, and Gillespie. He is in his 28th year of mounting children's concerts at the Brooklyn Academy, and is seeing renewed interest in works like his "Triple Concerto" for woodwind, brass, and jazz quintets and orchestra. He noted with satisfaction that "what I've been doing my whole life, as someone on the outskirts, is finally being accepted.
"I've just followed the natural calling in my own heart, writing music that I'd like to hear," he said of his unique career. "I got married late in life, when I was 48, and until then I lived on a marginal budget. If I got a movie score, I could live on the fee for years. It's different now that I have three kids. I'm working all of the time - but I'm also still playing benefits. I'd like to cut back, but if I do, it won't be the benefits that are cut. It's like organic gardening. You have to put something back in."
---
---
From The Indianapolis Star
Monday, May 4, 1998
---
Farmer cultivates musical interest
by Charles Staff
You may feel you've met most people before but you'll only meet David Amram once.
He's one of a kind.
The composer, conductor. horn player, pianist and general jack-of-all-instruments has been in town off and on since mid-April conducting the Indianapolis Symphony Orchestra's 61st annual Young People's Discovery Concerts.
Programmed for Indiana elementary pupils in Grades 4-6, the concerts resumed today at the Hilbert Circle Theatre. When we met, the tallish, reed-slender Amram, a youthful looking 67-year-old, gave me his business card, which reads, on one side: Pure Bred Jersey Cows, Alpine Dairy Goats, Chickens, Turkeys, Ducks & Organic Vegetables. Cider and Maple Syrup.
Besides knowing at least as much about music and how it works as anybody I've encountered in my 68 years, Amram is a farmer. He lives with his wife, Loralee, and their three teenagers at Peekskill Hollow Farm in Putnam Valley, N.Y.
"I lived on a farm in Pennsylvania until we had to sell it during World War 11 when I was 12 years old," Amram explained in his quick-spoken, soft-spoken way.

Did Farm Aid benefit
A world traveler who has absorbed the music of cultures from India to Bolivia, Amram recalled that he appeared with Willie Nelson in a Farm Aid benefit in Indianapolis about a dozen years ago. He believes that farming and writing music have a good deal in common.
"Farming helps your music a lot - not just the exercise. You have to plan a lot before you start and then you go to work and finally you sit out on the porch in the fall and see everything in bloom. It's a magical moment. like when you've finished a symphony you've worked hard on and musicians rehearse it and finally play it," he explained.
Early in his musical career, Amram wrote incidental music for Joseph Papp's New York Shakespeare Festival productions. Starting with the bloodiest of the Bard's dramas, Titus Andronicus. Amram scored 25 Shakespeare plays for Papp.
His credits also include music for the films The Manchurian Candidate and Splendor in the Grass and for Archibald MacLeish's Pulitzer Prize-winning play, J.B. And he has two operas under his belt: A setting of Shakespeare's Twelfth Night and a darkly poignant one-act opera about the Holocaust called The Final Ingredient.
In 1966-67 Amram was the first composer-in-residence for the New York Philharmonic. then directed by Leonard Bernstein. and participated in a State Department tour of Brazil in 1969 and one of Kenya in 1975 sponsored by the World Council of Churches.
Equally at home with jazz, folk and classical music, he went to Cuba in 1977 with Dizzy Gillespie, Stan Getz and Earl Hines and visited the Middle East the next year. All this comes out not only In his music, which embraces all styles, but also in his talks to the concert-going kids.
At ease around kids
And he's no stranger to children's concerts, having been appointed conductor of the Brooklyn Philharmonic's youth concerts In 1972.
"Young people make You think of why you went Into music. The kids train you to communicate and then when you do the others (the adult concerts), it's so much easier. It's also a reminder that the conductor's job Is to make the musicians feel good," Amram added.
The more autocratic conductors probably wouldn't agree with Amram, who is the gentlest conductor I've ever watched. But when you're around him you know you're in the presence of a talented man and you feel you're in the presence of a good man. At the morning youth concert I looked in on, Amram arrived on stage with a big, webbed shopping bag full of strange Instruments. He played all of them. In fact, he played three exotic recorderlike flutes at once. And the musicians smiled and applauded along with the kids.
Called Istanbul to Indianapolis, his program, with little language lessons thrown in, ranges from the finale of Rossini's William Tell Overture and Mozart's Turkish Rondo to his own Chakra, based on a tune he heard in Pakistan, and his orchestral arrangement of Thelonious Monk's Bye-ya.
He introduced Tell by admitting that most Americans hearing the end of the overture think of the Lone Ranger and galloping horses.
"Just think of those horses galloping from Rome to Sicily and taking an unusual turn to come to downtown Indianapolis," he advised the kids, after teaching them to say, "Molto grazie, Signor Rossini."
Back In the dressing room, I asked Amram about the turquoises, beads, medals and medallions of every description, including a Star of David, hanging around his neck.
"These are things people gave me. I wear them when I travel and put them on the wall at the farm when I'm home," he answered with a smile. He says he believes he's living a "dream come true." adding, "I'm blessed. I'm writing my music and I have a family and I'm conducing all these great orchestras, like this one in Indianapolis."
But would he change anything about his life if he could?
"Only One thing. If I had divine powers, I wish Jack Kerouac and Charlie Parker and Dimitri Mitropoulos and Joe Papp and Rudolf Serkin and Leonard Bernstein, all those who encouraged, inspired and helped me, could be here right now."
---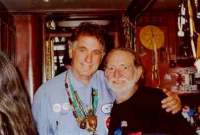 ALLIES: David Amram (left) and Willie Nelson chatted on Nelson's bus at Farm Aid '97 last October in Tinley Park, Ill.

Photo courtesy of Carolyn Mugar
---
---