---
|| • ||
---
From Peekskill, NY local media
Top
August 6, 2009
---
Peekskill plays the blues, and jazz
By Sarah Calandra Fine
"I've traveled around the world and played the blues, jazz, country music and folk," said David Amram, one of the fathers of American experimental music and a headliner Saturday at the third Peekskill Jazz and Blues Festival.
"Music was our best ambassador."
One reason is clear. Music is at its most powerful when its interpreters are able to move it from the notes on a page into the emotions of its listeners.
In jazz and blues, that kind of magic is made best by musicians who can let everything go to be in the moment. The show in Peekskill should have that music.
Fred Smith and the John Basile Quartet, The Mahavishnu Project, Duchess Di and the Distractions of Irvington and Johnny Feds and Da Bluez Boyz of Westchester will accompany Amram at the festival, which begins at 5 p.m. near the Jan Peek Gazebo on Division Street.
"In Peekskill, there is such a rich history of the arts and artists and musicians who live around the area," Amram said. "People can bring their children and grandchildren to this event and everyone can hang out together."
Amram, who lives in Putnam Valley, has composed opera and music for Broadway and movies. Last year, his trio played the Clearwater Festival Great Hudson River Revival.
"It will be great to hear some of the wonderful local musicians and also foster the idea that jazz and blues are the foundations of so much 20th-century art and culture," Amram said. It's not just the music but the paintings and the dress and civil rights. The music was so much a part of that because it is so real and so beautiful."
Johnny Feds of Johnny Feds and Da Bluez Boyz shared the old saying: The blues are the roots and everything else are the fruits. The smooth tones and melodies in blues music has been a jumping off point for many other genres of music in the world today, he said.
"The audience should listen to see how emotionally the music pours out of a blues player" Feds said. "When a guitar player or a sax player plays a note and the hair stands up on the back of your neck, you get the feeling that that note is coming from some place very deep."
The players like to see younger audience members at the festival because their improvisational style often provides that unexpected moment when they realize they're listening to a something new, something beyond the comfort zone of their own playlists.
At 78, Amram is the master in this lineup, but Peekskill audiences know Johnny Feds and Da Bluez Boyz from their weekly gig at 12 Grapes - and Duchess Di & The Distractions were a crowd favorite at last year's festival.
The Mahavishnu Project reflects the music of jazz rock pioneer John McLoughlin and the Mahavishnu Orchestra, an east-meets-west creation that combined the jazz of John Coltrane and the ragas of Ravi Shankar
"The best thing about getting involved in music is that it's a certain type of discipline that stays with you your whole life," Basile said.
"Music pulls you back, it keeps you honest. You can't bull when you are playing an instrument and when you are learning music and being true to that." Amram chooses a different result.
"I hope our band will inspire every listener, young and old, who comes to hear all of the five groups, to go home after the concert and be more creative than ever for what they do in life."
If you go

What: The Third Annual Outdoor Peekskill Jazz and Blues Festival 2009
When: 5 to 10 p.m. Saturday (rain date Sunday)
Where: Near the Jan Peek Gazebo on Division Street, Peekskill
Admission: Free
---
From SOUNDTRACK
The CinemaScore & Soundtrack Archives
Top
August 3, 2009
---
David Amram Returns to MANCHURIA
By Randall D. Larson
An Interview with David Amram by Randall D. Larson © 1998/2009
Originally published in Soundtrack Magazine Vol.17/No.66/1998
Coming out of the Jack Kerouac era of jazz poetry, David Amram has maintained a long and notable career as a jazz performer and composer of varied orchestral and chamber works, including Broadway theater, and some half dozen Hollywood films, most notably John Frankenheimer's THE MANCHURIAN CANDIDATE (1962). With the subsequent withdrawal of that film from the public in the wake of the JFK assassination - which it prefigured through its conspiratorial plot - Amram's brilliant score was lost as well. Now that the film has become available again, Amram's score can also be appreciated on a new CD and within the context of the film on video and laser disk. Interviewed in February, 1998, the 67-year old Amram described his involvement with film music, his musical psychologies for THE MANCHURIAN CANDIDATE and his new PBS documentary score.
Randall D. Larson: How did you get Involved in Hollywood film music?
David Amram: A writer friend of mine, Terry Southern, used to come to hear me play jazz in 1954 and 1955 in Paris. He was very good friends with a film editor named AI Lavakian, who's the brother of George Lavakian, a record producer. They liked my music, and they also heard music that I was trying to write as a composer.
In 1956, someone named Hal Freeman made a documentary film about the Third Avenue EI called ECHO OF AN ERA, and I was asked to write the music for it. I also worked on a Broadway play directed by Elia Kazan, and he asked me to score SPLENDOR IN THE GRASS. At the same time I'd been asked by John Frankenheimer to do music for a television program of TURN OF THE SCREW with Ingrid Bergman, and that led to John Frankenheimer's first Hollywood film, THE YOUNG SAVAGES. He asked me to do the music for that. Since I was totally unknown, and people knew that I orchestrated, performed and conducted my own music - I'd made it clear that I didn't need ghostwriters, orchestrators, or steal from Tchaikovsky and Bartok - they thought I was so eccentric that they expressed reservations to both John Frankenheimer and Elia Kazan that perhaps I was mentally unbalanced! Because they kept saying, "You and your writers and your orchestrators" and I kept saying, "I don't have any writers and orchestrators, I do it all myself." But, fortunately, they still took a chance, and I had a wonderful time working on those two films. When THE MANCHURIAN CANDIDATE came about, (star) Frank Sinatra himself loved jazz, and he also loved symphonic music, and John Frankenheimer had already had a good score from me, so by that time there wasn't any problem. I was called to come out to California and to write the very best music I could.
Randall D. Larson: Stepping back in time, here it is: 1962. You've just got on the project to do THE MANCHURIAN CANDIDATE. What was your first take on the assignment? What kind of music did you feel the film needed to have?

David Amram: John just told me to watch the film. He said "The film will tell you what to do. He told me, "I didn't want to hire somebody to write Chinese war music. I want some real music." So I watched the first rough cut, and they had that incredible scene with the prisoners of war and you see a ladies' group of older, very charming, well mannered women, all wearing hats and all drinking tea, almost a scene out of Savannah, Georgia in the 18th or 19th Century, and then suddenly it turns into a war tribunal in Manchuria, I was completely blown away. I thought they had miscut the film, it was so shocking! I told that to John and he said "No, that's the way it's supposed to be, to show the viewers, to make them feel what it's like to actually be programmed and brainwashed." And he said, "The music can really help to further that". So I came up with a kind of very dissonant and somewhat terrifying music, using the harpsichord, which wasn't used that much in film at that time, three piccolos, and strings. And I tried to make the character of Laurence Harvey more human and more noble by using the trumpet in the film's main theme of the film to show that he was a hero, almost a victim of fate. I hoped that the music, in some small way, could help to ennoble his situation, rather than cheapen it. And then there was some very sentimental, romantic music used very briefly underneath a love scene. Actually there was another love theme, which is on the CD, and which I'm very proud of, that wasn't used in the film. It had too much sentiment, so we had to cut that one out at the very end, because I agreed with John that while it was lovely, it was too pretty for what the picture was about.
I've always felt with music for film, theater or opera, that the music has to forward and be part of the drama. It's not background music, except very, very occasionally. It's part of the whole picture, and since I've always written symphonic music I know what it's like when you're a soloist and someone's playing the wrong thing behind me. It can ruin not only your performance but the entire musical picture. So in doing film music, it's a question of being sensitive to the whole situation, and having the film itself be part of the music and the music being part of the film. And when you look at it that way, then it's very exciting, and when you're able to work with filmmakers who feel that way not only about the music but about the film itself, you can come out feeling wonderful and enriched.

After I did THE MANCHURIAN CANDIDATE I was flooded with offers and a lot of other work. Even though no one's ever accused me of being a snob, most of the films, especially at that time, were so awful that I just felt I didn't want to work on something, after working on three films I was very proud of. In 1969 I did Kazan's film THE ARRANGEMENT, with Kirk Douglas and Faye Dunaway, which I loved working on, and I haven't done any feature films since then. But I have done some documentaries - I've done music for a lot of films about Jack Kerouac, who I originally performed with. I did the music for a 1959 underground film, PULL MY DAISY. I'm doing music now for a PBS film now about Walker Evans, the photographer. But, again, the person who's doing it is someone who not only loves music but loves film. Even with THE MANCHURIAN CANDIDATE coming out on CD now, I'm now being called to do films again. A lot of people, I think, may have thought I'd expired or retired, so when they read the liner notes and saw the enormous amount of stuff that I've done and still am doing, I'm sure that I'll be probably be coming back and doing some more.
Randall D. Larson: How does working on these films today compare with your experience back in the late '50s and early '60s?
David Amram: It's a lot easier, because the technology is so terrific. I don't use synthesizers or computers. Not because I think there's anything wrong with that, but because that's not my calling, and I couldn't put my heart into it, so therefore it's better to have that done by someone who feels comfortable and loves that as much as I love music from all around the world. I think film music now is a much more open situation. I'm proud that I was able to bring really accomplished jazz performers into playing on film scores, which was almost unheard of in 1962. I've also shown that a film composer could be a real composer, period, and doesn't have to use ghost writers or orchestrators.
Randall D. Larson: There have only been a handful of really successful jazz film scores, and yours have certainly been among them. What is your feeling about the use of jazz in film music?
David Amram: Very often, jazz has been used traditionally to depict crime or death or drugs, or depravity. It was limited very often to that, so sometimes it wasn't used in a kind of mainstream way, the way I was able to sneak it into SPLENDOR IN THE GRASS and THE YOUNG SAVAGES, in fact in all the film scores that I did. And also, I've always done jazz and work from the European classical tradition, and I'm equally at home in both. Now, I think there are more composers like that who are versed in music in totality, and I think that's something that's yet to come, and I think that we'll see, in the next ten or fifteen years, a lot of the younger musicians who were brought up being able to be equally at home in many forms of music, contributing some wonderful film scores.
Randall D. Larson: What's your view of contemporary film composers?
David Amram: I think that there's a whole group of composers who have really contributed some wonderful scores. I thought the score for SCHINDLER'S LIST was just wonderful; the violin piece that John Williams has taken away from the film is very, very beautiful. I think the Horner score for TITANIC was terrific, just excellent. I really like John Barry's music. I think every score I've ever heard by Jerry Goldsmith or Lalo Schifrin has always been excellent music. I think that the people like Elmer Bernstein, who've done film for so long, keep up a wonderful standard. And of course a lot of the European composers have opened up film music.
Randall D. Larson: What do you think has made your score for THE MANCHURIAN CANDIDATE so special and memorable, so that now, even after 35 years, finally now appearing on CD is quite an event?
David Amram: People have always commented that they cared for it. So thank heaven Bob Stern was interested in putting the entire CD out so you could hear all of it. I think maybe what makes it special is that, aside from trying to do a good job, something that would enhance the film, I also tried to write the very best music that I possibly could, because even back in 1962 I had the wild dream that somebody someday might notice what I had done!
---
From Soundboard
Top
March 20, 2009
---
By Jim Abbott
Composer, musician and wordsmith David Amram does so many things that it's hard to predict the focus of his appearance Wednesday at Urban Think!
Aside from one obvious area of passion:
"My hope is that my presence in Orlando will encourage people to see that Jack Kerouac lived, created and worked there," Amram says, "and that in 2009, new writers are living and creating there, and that everybody has something creative to offer."
Amram, 78, contributed music to the first Beat poetry session in 1957 in Greenwich Village. He composed the score for Pull My Daisy, the landmark 1959 Beats documentary narrated by Kerouac. That's part of a lengthy résumé that includes film scores, work with iconic jazz musicians and educational projects.
A short list of accomplishments includes film soundtracks for Splendor in the Grass and The Manchurian Candidate, two operas, a stint as the first composer-in-residence for the New York Philharmonic in 1966 and collaborations with Langston Hughes, Dizzy Gillespie, Thelonious Monk, Odetta, Arthur Miller, Charles Mingus, Lionel Hampton and others.
On Wednesday, he'll be bringing along toys from an instrument collection that represents 25 countries.
"I'll have some wind instruments from Egypt and the Middle East, all kinds of flutes, my French horn, and whatever kind of keyboard they have there," he says. "There will be hand drums and a Sheeho, a native American courting flute."
Along with the music, Amram will be reading from two of his books, Offbeat: Collaborating With Kerouac and Upbeat: Nine Lives of a Musical Cat. Nationally known Kerouac author and expert Bob Kealing of WESH-Channel 2 also will be on hand.
Amram expects that some local jazz musicians also might be in the mix.
"We used to have a thing called Amram Jam, and this will have that kind of egalitarian spirit," Amram says. "I know enough folk music from around the world, and jazz, to play for 60 hours.
"Since I'm 78 and good taste is slowly creeping in, I'll try to limit it to a bearable amount — and we'll see who shows up."
---
From JazzWax
Top
April 15, 2009
---
David Amram on Blossom Dearie
By Marc Myers
In 1955, jazz French hornist and composer David Amram was in Paris playing and recording with saxophonist Bobby Jaspar. Jaspar was married to singer Blossom Dearie at the time. When Dearie died in February, I e-mailed David for his recollections. But for some reason David's response never arrived.
While catching up with David the other day, I asked if he had ever received my note. He said he did and that he had replied immediately. Puzzled, David went into his computer system and found the glitch. His comments had become snagged on a technological reef. Once freed up, his Dearie deliberations hit my e-mail in-box. Here are David's warm comments, released and reloaded:
"Blossom was not only an outstanding performer with a unique style all her own, she also was a veritable
encyclopedia of American popular music, and she was always anxious to share songs with all of us.
"We first met in 1955 in Paris when she was with Bobby Jaspar, with whom I played. I saw them almost every day. Their apartment was filled with sheet music, of songs from the 1920s through the latest music written by friends. She had
a repertoire of hundreds of tunes and was always learning new ones, including ones she never sang but played for friends. And she would show you songs she thought might be good for you to play.
" 'Hey man, listen to these chord changes and how the lyrics are constructed,' she would say, like a pixie-ish professor, in that unmistakable high tiny voice that made you always pay extra attention.
"Even though she was so easygoing and sweet to everyone, she was really serious about what she did, and she was a real perfectionist. She never criticized others. She just tuned out all trash and concentrated on what her perfect instincts told her was important.
"One night, back in the States in 1957 at [filmmaker] Jean Bach's place in Greenwich Village, there was a party and reception that Jean gave for pianist Andre Previn. But when Andre got tied up and couldn't make it until after midnight, Blossom and Annie Ross sang duets together for almost two hours until Andre arrived, and those songs were fantastic.
"In a room full of people who had come to see him, Andre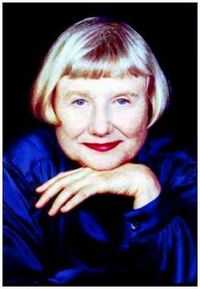 joined us and asked Blossom and Annie [pictured] to continue, as we listened to them for another hour. Blossom and Annie lit up the room. Blossom spent her whole life lighting up rooms, singing and playing the music she loved. She always made it clear that she loved doing it.
"And she always found the time to share a smile as she greeted every musician (male or female) with a 'Hey, man,' even at 2 a.m. when she was playing in a place with an out-of-tune piano, poor sound system and no audience except for the few musicians who came in after work just to hear her.
"She never complained because she knew how good she was, and she always created her own Carnegie Hall wherever she went. She was beloved by several generations of musicians as well as other singers. She had a loyal audience in the U.S. and Europe who could never get enough of her special gifts, as well as her warmth and far out sense of humor.
"We will all miss her."
Read the original article in JazzWax.
---
From JazzWax
Top
August 31, 2009
---
David Amram on Lester Young
By Marc Myers
Last Thursday was Lester Young's centennial. It's hard to believe but Prez (short for President, Young's nickname)
never made a bad record. From his earliest session with Basie in November 1936 to his final recordings just days before his death in March 1959, Young's tenor saxophone always had a silky, pleading sound that surfaced as a blues and swing swirl. His improvisational ideas were so consistently relaxed and soulful that an entire generation of reed players unashamedly tried to sound like him—until, that is, Sonny Rollins broke the mold in the early 1950s.
While on vacation last week, I received a lovely e-mail from legendary jazz French hornist, composer and arranger David Amram [pictured], who relayed to me a wonderful personal story about Young:
"I just went to a birthday celebration I will never forget.
"Maybe some in America have forgotten Lester Young, but people all over the world are still moved every time they hear the classic recordings of this giant. Prez was someone who helped change the face of jazz, and people still cherish the moments in their lives when they heard him. In spite of all the setbacks in his own life, everything Prez did celebrated beauty and lyricism.
"Last week, on Prez's 100th birthday, I was invited to a filming at the corner of 52nd St. and Sixth Avenue in New York. There used to be a plaque on the sidewalk there honoring Prez, Billie Holiday and all the other great musicians who graced us with their presence during the street's heyday. But the plaque has inexplicably been removed and was nowhere to be seen.
"Nevertheless, the memories are still there. As I drove into the city from our little farm in upstate New York, I flashed back to being a teenager and driving seven hours in my 1932 Plymouth from Washington, D.C. to New York to hear all the thrilling new music being created every night on 52nd Street. Now all the clubs are gone, and only old photos, a few films and many great recordings remain.
"But I was there to celebrate Prez and his 100th birthday, and I imagined that maybe he would show up in that great pork pie hat and tell us some of his endless stories of his latest adventures on that never-ending road he was on most of his life.
"I walked with all my instruments over to the fountain on the northwest corner of 52nd and Sixth Avenue where Henry Ferrini had asked me to meet him. Henry is making a documentary film about Lester. As I unpacked my instruments on the sidewalk, I was eyed by people who saw I was going to be filmed.
"When I told them why I was there, many told me they had never heard of Lester Young. 'Go home and check him out on the Internet,' I said. 'You'll be happy if you do. And if you get any of his recordings, you'll be surprised how often you listen to them.'
"A day earlier, Henry [pictured] asked if I could come into the city and relate any stories about this most beloved and influential musical pioneer. I told Henry during our phone conversation about Lester's wish in his last days to have a string quartet piece composed for him—with optional French horn and rhythm section.
"I told Henry I was to compose the piece for Lester and join him in the recording. Drummer Willie Jones had suggested to Prez that I write the music. I had played with Jones in 1955 when I first came to New York and we had worked together with Charles Mingus at the Bohemia. Jones was also a friend of Lester's and told Lester that I could write a string piece for him that would let him play freely. Lester knew I was a jazz French hornist who had played and recorded with Mingus, Oscar Pettiford and others. So Lester suggested to Willie that I add a French horn to the strings and play the instrument myself.
"When I told Henry about Lester's interest in doing this, he told me he already knew about it. 'How could you possibly know that?' I asked him.
" 'Because I have a copy of the tape where Lester mentions it during an interview he gave in Paris in February 1959,' Henry said on the phone. 'In the interview with French reporter Francois Postif, Lester said that he had a man to write for strings, and a French horn and rhythm.' Henry said he knew that if the person writing a string quartet was also was adding a French horn, it must be me. [Pictured: David, left, with Leonard Bernstein]
"It blew my mind to find out that this had been documented 50 years ago in one of Lester's last interviews. I didn't realize that anyone else knew about it, since only five weeks later, on March 15, 1959, Prez passed away.
"Henry told me that he also had a printed copy of the same interview, which appeared in Lewis Porter's bio of Lester Young, and that when I came to the city to be filmed he would show it to me. Henry also told me that the actual interview could be heard on YouTube, in Prez's own voice.
"As I stood on the corner of Sixth Avenue and 52nd Street, Henry took out a copy of Lewis Porter's excellent bio and showed me the printed words of Lester talking about this collaboration, which unfortunately never happened because he left us too soon.
"As I read the passage, I could hear Lester's unmistakable soft voice and realized I was standing not far from where many of us stood during a long-gone time, hearing Prez play during the glory days of 52nd street over 60 years ago!
"Now it was time to play something for Lester in the same place where all the jazz clubs had once stood side by side, creating a little village of musical delights like Bourbon Street in New Orleans. Back then on 52nd Street, you could walk and listen outside each club if you were too young to get in. Standing there on the sidewalk, you could hear all the groups and even meet the musicians and hang out with them when they took their breaks and went out on the same sidewalk I was standing on now, as they relaxed after playing their set, to get some air, have a smoke and rap with passersby and other musicians.
"I closed my eyes and played Happy Birthday, Amazing Grace, and some blues for Prez—as a thank you to honor this amazing musician.
"Through the surrounding din of the trucks grinding their gears, car horns honking, subways rumbling and people rapping as they walked by—all of which served as a New York rush hour rhythm section and back-up band—I had a moment where I felt something of Lester's presence out there in that spirit world. Just like you sometimes feel Mozart
looking over your shoulder on the rare occasions that you are doing his music justice. [Photo by Herman Leonard, (c)Herman Leonard Photography LLC]
"I told Henry that the next 100 years would be even better for Prez—and for all of us. Now a whole new younger generation can bypass decades of bad taste and neglect by a music industry that is being replaced by access to the Internet. Online, you can see and hear masters of all the sincere forms of music built to last, and relate the musical masters from Lester's place of birth in Mississippi and study how he incorporated all this into his life's journey in the work he created. And that discovering Lester was a gateway to seeing and hearing all the other artists he influenced and continues to influence.
"It is really important that this film is being made. Henry is a unique filmmaker. He spent years creating the documentary Lowell Blues, the best film ever made about writer Jack Kerouac, and one of my favorite films of all time, with a great score by Lee Konitz.
"Henry Ferrini also plays the sax, and he made a beautiful documentary film about poet Charles Olson, which also is a gem. I am honored to be in the Lester Young tribute film. And I know it will be memorable, no matter how long it takes Henry to finish the project and get it released.
"I think as I approach the big eight-oh [on November 17, 2010] that part of my gig in life is to honor all those who I was lucky enough to know but no longer are here. There are so many wonderful people who have been dismissed or forgotten by our culture.
"Henry's film will help to remind people how proud we should all be to have had someone like Prez to enrich our lives."
—David Amram
Read the original article in JazzWax.